May 04, 2017
General Council have unanimously agreed to renew the tenure of its Dean, Prof. Dr. Paul Matthyssens
Antwerp Management School's Board of Directors (on March 27, 2017) and its General Council (on April 25) have unanimously agreed to renew the tenure of its Dean, Prof. Dr. Paul Matthyssens, for a second term, expressing confidence in his policies.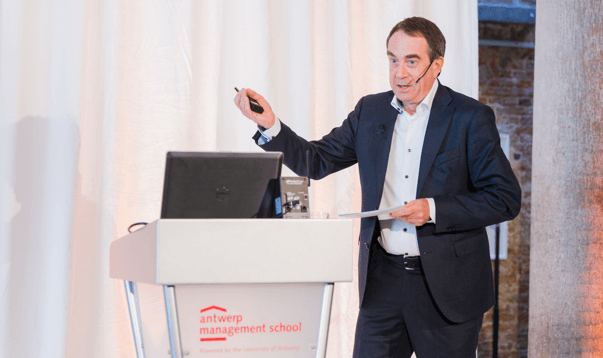 The position of Dean, awarded by the school's Board of Directors and General Council, has a term of four years and is extendable. Prof. Matthyssens' first term was due to end Aug. 31.
AMS is facing a big challenge: the move to the new De Boogkeers site in 2018. The Boards and the Dean believe the project will further position AMS as a boutique business school, in research as well as education.
This confidence was underlined last week, when AMS signed a covenant with the Flemish government to conduct high-level academic research over the next few years. The whole AMS team is enthusiastic about maintaining the quality of the previous years.
Says Matthyssens: "We, as the Board of Directors, are convinced that AMS is looking at a bright future as an independent school. I would love to create a European network for smaller business schools who support each other in partnerships. We shall focus increasingly on our social relevance and look at social challenges with our [research] partners. We are going to create the 'next generation' and are inspired by the enthusiasm and energy of our students."
Perscontact
Anja Tys, Corporate Marketing Communication Manager, anja.tys@ams.ac.be
T+32 3 265 47 33 of M+32 486 494 387