AMS is located on De Boogkeers 5 in 2000 Antwerp. We have NO PARKING LOT but there are many other clever ways to reach us. You can easily plan your journey using the route planner of 'Slim naar Antwerpen'.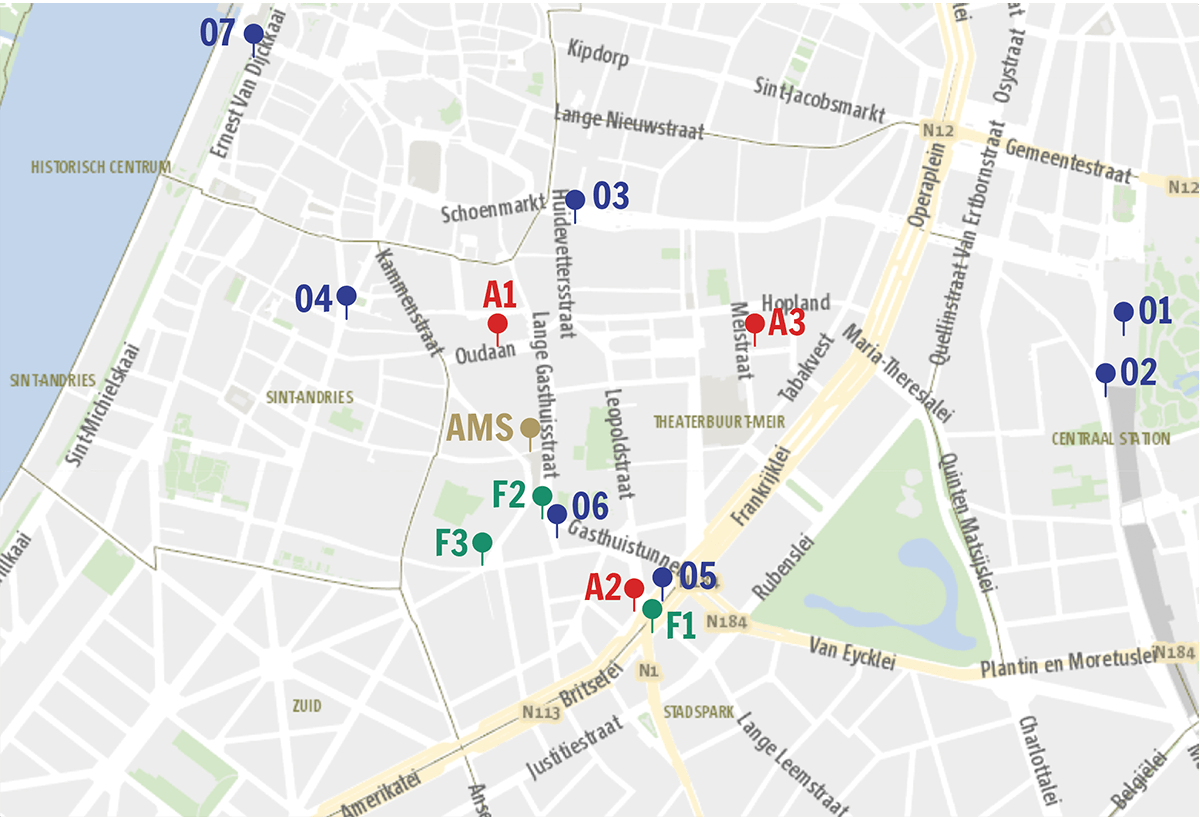 Are you coming by bicycle?
If you come by bicycle, you can use our underground bicycle parking with charging stations for your electric bicycle, the entrance is located on Vleminckveld street. A shower is available.
Map out your route with this route planner. AMS is located close to bicycle junction 58 (F1). From Linkeroever you can use the bicycle tunnel or the Sint-Anna ferry to reach Rechteroever.
If you come by Velo-fiets, the nearest Velo stations are 084-Elzenveld (F2) and 073-Maarschalk Gérard (F3).
Other options are Blue Bike and Cloud Bike.
Are you coming by public transport?
By train
To reach AMS, take the train to Antwerp-Central (O1).

You can either walk to our campus in about 20 minutes or take the bike for about 8 minutes. You can also take the tram or metro: At the station, follow the arrows to the metro stop Diamant (O2). There you take tram 9 or 15 in the direction of Linkeroever and get off at the stop called Meir (O3). From there, it takes about 7 minutes to reach AMS.

Visitors from East and West Flanders can get off at Antwerpen-Zuid station. In Antwerpen-Zuid you can take tram 4 in the direction of Groenplaats to the stop of Mechelseplein (O6) or take tram 10 in the direction of Wijnegem to stop at Nationale Bank (O5).
Via the river Scheldt
DeWaterbus travels between Hemiksem and Antwerp, with arrival at het Steen (O7). More information on departure times and rates for DeWaterbus can be found here.
By tram
Take the tram to one of the stops near AMS. You can find more information about the timetable and itinerary on the website of De Lijn. The nearest stops are:

- stop Meir (03): Tram 3 / 5 / 9 / 15
- stop Mechelseplein (O6): Tram 4 / 7
- stop National Bank (O5): Tram 8 / 10

Here you will find the latest De Lijn network plans in the right-hand column.

Buy an M-ticket via the app of De Lijn before boarding the tram. An M-ticket costs €1,8 and is valid for 1 hour. Or SMS "DL" to 4884. This SMS ticket is valid for 1 hour on all De Lijn trams and buses and costs €2,50.
Are you coming by car?

Our advice is to park for free at one of the Park & Rides around the city and take the tram to the Meir (O3) stop. More information on P+R areas can be found here. Below you will find an overview of all the P+R areas with a direct connection to a stop in the vicinity of AMS.
3: P+R Merksem – P+R Melsele (stop Meir) (O3)
5: P+R Linkeroever – Wijnegem (stop Meir) (O3)
9: P+R Linkeroever – P+R Wommelgem (stop Meir) (O3)
15: P+R Linkeroever – P+R Boechout (stop Meir) (O3)
10: P+R Schoonselhof – Wijnegem (stop Nationale Bank) (O5)
Are you taking the car to get to AMS? We do not have a private parking lot. In the streets around AMS there is paid parking, from Monday to Saturday, from 9 am to 7 pm. The paid public parking lots closest to AMS are: Oudaan (A1), Nationale Bank (A2) or Arenberg (A3). All the information on paid parking lots can be found here.


Attention!
AMS is located in a low emission zone, avoid fines and always check your vehicle on www.slimnaarantwerpen.be/en/LEZ